Every Adventure is Worthy of Being Documented
"I wish we would have hired a wedding videographer"
Not hiring a videographer is the #1 thing couples say that regret about their wedding day.
When Eric and I got married, photography and videography were at the top of my list. I didn't cry on my wedding day, but once we got our wedding film back, I got really emotional seeing how Eric and I looked at each other. I cried watching my film, and that's something many of my couples have said
Video brings up emotions that photos just don't.
Your wedding day also flies by! So by having a video, you really get to relive the day, step into your own shoes, and feel and see all the things you may have missed!
There is something incredible about watching things in motion, hearing people laugh and cheer, and hearing your vows all over again. It really is one of the most surreal feelings to see your seemingly normal life set to music and looking like a Hollywood film.
I mean, think about growing up… When did your parent's pull out the camcorder? For only the most important events. Weddings, recitals, Christmas, birthdays… Your wedding matters. Big or small, the two of you, or a few friends to gather – It matters. I understand that the idea of having yet another camera on you might feel overwhelming, but I can assure you that my unobtrusive filming-style will set everything at eas
I'd love to be the one to help document your next adventure!
Wither it's a wedding or an elopement, a one-day hike, or a week-long travel excursion, let's do it!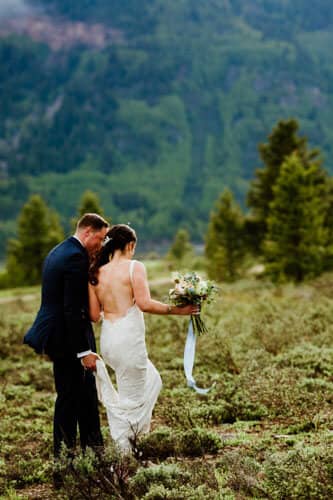 YOUR WEDDING DAY IS NOT MY SCREENPLAY
My films capture reality. You spend months planning your wedding, and it is my job to capture that day like an artsy fly on the wall. I have a photojournalistic approach with a cinematic flare. To me, this means that I won't direct every single move or action, but I will guide you into interacting with one another. I know how to find and use beautiful light and I know how to film effectively so you don't have to do the same thing over and over again. I embrace squishy noses, rapid fire kisses, and wind-blown hair. If you're all about absolute perfection, I may not be the right filmmaker for you. Life is never perfect, love is never perfect. But that's the adventure, and we roll with the punches over here!
Unlike many videographers, I am 100% willing to hike the trails with you. That's what makes for a great elopement film. My setup and gear is specifically designed to be lightweight, compact, and versatile so I can be ready for anything at any moment without the fuss, pomp, and circumstance. I'm not shy of any level difficulty of trail, hiking, or off-roading.
A 1 minute sneak peek the week after your wedding

A Minimum 2-4 minute highlight film

A full cut of your ceremony

A full cut of toasts if applicable

Digital Delivery

Custom Playbook

Unlimited planning and assistance including vendor recommendations
The entire wedding industry has changed! With the progression of COVID-19, we've seen a shift from traditional weddings, to more elopements and intimate weddings. While many people still value having a large celebration, many more have also found the joy in an intimate wedding. Stress? Gone. Family issues? Skip. Spending thousands on catering? Nope!
But even though couples are valuing their day being smaller and intentional, many couples still want to share their experience with friends and family after the fact. Video is the perfect way for people to fully immerse themselves in an experience!
Think back to when your parent's got married, and what their video looked like (if they had one). You think of a camcorder on a tripod in the back of the church, shakey reception footage, roughly cut together. 
Wedding videos are not like that anymore!
(Thank the lord, amiright?)
Not only can you have your wedding in a brewery with fried pickles, or get married on top of a mountain with your furry friend as a witness, your wedding video will be cinematic and beautiful, and nothing like the home movies you're used to.
Although nearly all people hire a photographer for their events, not many people choose to have a videographer. However, film offers such a unique perspective to the day, and photos just don't capture emotion in the same way. 
Along with the motion of the day, you also get the audio of your vows, candid moments, cheers, laughter, and all the adventure that is being in a relationship and getting married!
What are you waiting for? Your adventure awaits! I would love to be your Colorado Adventure Videographer!
"So what would this look like? I can't imagine needing more than an hour??
The very definition of an elopement has also changed over the years! Eloping does not necessarily mean that you're runnning off spontaniously to get married behind your families backs (although if you do, all the power to you!!)
Couples are planning their intimate elopements up to a year in advance like traditional weddings. Just because your guest count is small, doesn't mean that you can't have an emotional and intentional day!
You can have a full day of adventuring, you can fill your day with activites that matter to you.
You can do as much or as little as you'd like, and you can have a videographer there to document the whole thing!
Your wedding day matters, it is important, and it deserves to be documented!
Your wedding is valid (despite what your grouchy Aunt Prudence says!)
Half Day (3-5 hours) – $3000
Imagine this – wake up at the butt crack of dawn, we meet at the trailhead and start hiking in the dark. When we get to the alpine lake we're heading toward, you crack open your thermos full of hot chocolate to warm up now that we're above treeline. The sky starts to go from a pitch black to a lighter blue, and it's almost time for alpenglow.
You both start getting dressed to the 9s while a mountain goat chomps on some stubby little flowers off to the side. What a creep. When you're ready, you both turn around for your first look right as the sun hits the towering peaks. You take a moment, and then we walk over to your ceremony spot. You don't rush it, you take your time, you kiss whenever you want, and between every sentence, because your prude aunt isn't sitting front row AND YOU CAN!
After your ceremony, I'm in tears, you're in tears, the birds are in tears, we walk to a second spot around the lake and spend some time frolicking around and enjoying the fact that the sun has finally hit your skin and you're not completely cold anymore. We make our way back over to where we started and we bust out your breakfast picnic complete with champagne and a meat and cheese box. We start making our way back down and stop in a couple of spots we missed in the dark on our way up. By the time we get to the car, you're grinning ear to ear, several hikers have congratulated you, and we part ways!

Full Day (8-12 Hours) – $5000

You've got a full day ahead of you! We start by getting ready at the airbnb that you booked. You want to take your morning slow, so you do – breakfast on the porch watching the sun fill the valley.
After you get dressed, you and your partner do a first look and the day begins! We found an amazing pass on a 4×4 road that takes a little while to get to, so we hop in my Jeep and make our way up.
Since we're in no rush, you make the calls, you see a cool looking trail off the road, let's take it, and see where it goes! We get to your ceremony spot and do the thing! Congratulations! You're now officially married! We bust out your wedding picnic, and pop a bottle of champagne to celebrate! We spend a little extra time adventuring around on top of the pass before heading back to your cabin.
There, your personal chef is ready to make your dinner and serves you outside by the campfire. You finish the night stargazing with s'mores and a porter, and we part ways at the end of the evening!

Weekend (2 days, hours are irrelevant, we're gonna have a blast) $8000

Oooh buddy, we're gonna have fun with this one! You really don't want to see anybody, and you want to see something so damn epic, the only way to get there is on foot (since most of us don't have horses, unless you do, in which case, yes, let's do it!).
We backpack into the most amazing place the afternoon the day before and set up camp. Dinner is on, and so is the campfire (fire bans permitting), and we play around with a little astrophotography once it's dark enough.
We set our alarms at early'o'clock for you to start getting ready in your tent. By the time the sky has faded to a lighter shade of blue, you are out and about and ready for that first look magic! We do your ceremony and enjoy breakfast, and when we're all hunkey dorey, we start making our way back.
Alternatively, you might choose to have a few friends/family join you at an airbnb, and maybe you don't want to do one big hike, but you want the whole weekend of shenanigans captured! Hiking, horseback riding, skeet, fishing, whatever it might be! You just want the whole weekend of everyone you love captured in your film!
Some of My Favorite Elopements