We  got married!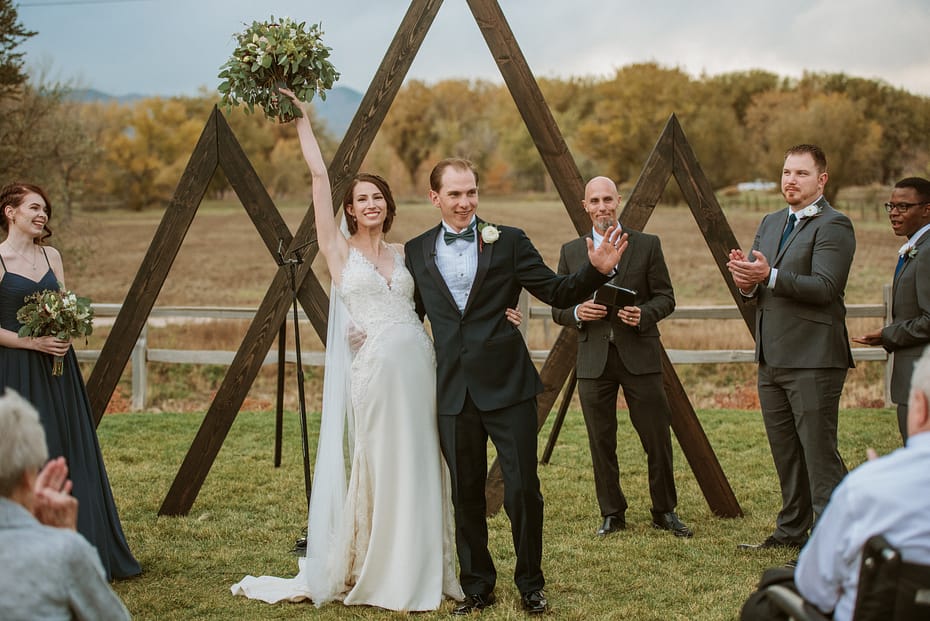 October 22nd, 2018, Eric and I said our vows, made the toasts, did a little dance, and left as husband and wife! Many people asked me what it was like being a wedding videographer and planning my own wedding. My answer? It was really difficult. But we learned so much throughout the process. I want to share a little about our experience with you. Wedding planning can be stressful, but you only invite as much stress in as you allow! You can choose to stress over the little things or… you can choose to savor this time, learn more about each other in the process, and create a wedding that really does showcase who you and your partner are. Here are just 4 (of the many) things I learned while planning my own wedding.
1 – DECISIONS TAKE TWO
Since high school, there was a photographer that I adored (and still do). I was 110% sure that I wanted her to photograph my wedding. Once Eric and I got engaged, I reached out to her for her availability for us to pick a date for our wedding. I didn't ask Eric, I didn't mention anything, I just immediately started the conversation. After about a month, I told him who I wanted for our photography, I didn't ask him, I told him. And I nearly cried when he told me that he didn't like her style at all.
At the time, I didn't care how much she charged, I just knew that I wanted her. But Eric wanted something else and budget was really important to him. I learned very quickly that planning OUR wedding couldn't just be me making all the decisions. (surprise, right?)
One of the most useful things that we did while planning our wedding was hopping over to a brewery, getting a little tipsy, and talked about our priorities. We decided on our budget, and chose our top three priorities each.
Eric's – 1. The bride. 2. The groom. 2. Everyone is invited.
Elizabeth's – 1. Photography. 2. Videography. 3. Good beer.
6 priorities to meet seemed fairly manageable, and we both had our say in what mattered.
From then on, I involved him him in every single decision we made. Eric even chose the bridesmaid dress color from the colors I narrowed down.
My favorite part of what we planned together was our custom beer glasses. We wanted to do a "logo" of sorts that encompassed who we are. We started with a crest which turned to a butterfly with 4 scenes happening on the wings. As we played around with the butterfly design, at almost the same moment, we realized what we could do. This is the symbol of our marriage (other than our rings). We came together to begin a new life with each other. This is our new beginning.
When you come together to plan your wedding as a team, you both enjoy the process.
2 – BRIDAL MAGAZINES AND BLOGS ARE DISTRACTING
Early into the planning process, I had to throw away the bridal magazines. Literally threw them in the recycle bin. Being in the wedding industry, I have documented some incredible events. I have seen $100k+ weddings with all the florals, live music, mountain views, etc. And the bridal magazines, blogs, the Knot's Wedding Checklist… it all added to the stress.
"10 things you NEED to have at your wedding"
"20 things wedding guests hate"
"25 wedding trends you NEED to follow"
"Top 5 mistakes to avoid a wedding disaster"
"The best wedding hairstyles"
"The wedding looks we love"
The checklist from The Knot app has so many steps, it gave me anxiety.
But all of it is noise.
You don't NEED anything to get married other than you and your partner.
I'm very torn on big weddings. I think weddings, when done right, are a beautiful thing, but so many weddings just check the boxes of all the vendors and things you need to have. Since planning our wedding, I have become a little angry at the wedding industry. We rented chairs for our ceremony and the white chairs were $2/chair, and the black chairs were $1/chair. Double the cost for the same chair! Obviously we went with the black chairs, but stuff like that really makes me mad.
I didn't get burnt out from the wedding industry. Just disenchanted.
I don't even feel like I found "the dress" because what I was sold through bridal magazines were dresses I could never afford. So I got creative.
3 – TRADITIONAL WEDDINGS AREN'T A BAD THING
Too many people come out of their wedding and immediately say "I'm glad it's over!" But I had a past bride of mine encourage me to enjoy the process. I really tried to keep that in mind as we were planning and you really can find a lot of enjoyment in the process. Eric and I learned a lot about each other and how to communicate over our 10 month engagement and I became determined not to be one of those brides saying "I'm glad it's over."
Initially when we got engaged, I wanted to run off to New Zealand and elope. I didn't want family or friends there, I just wanted the two of us. When it comes down to it, we're actually fairly private people. We rarely post to social media about our personal lives, I'll mention him on my IG posts every now and again, but we've never been one of those couples. Being an introvert, I didn't want 150 people staring at me as I walked down the aisle. I didn't want corny toasts. But at the end of the day…
I'm glad that we had a big wedding.
Eric's dad mentioned how neat it was to see people on his side of the family kicking back, engaging in conversation, and drinkin' a beer. And he's right! It was such a good thing to see our family having great conversations over delicious food and good beer.
Part of me looks back and wishes we would have just kept it simple and gone to the courthouse, but at the same time… We learned so much about our relationship and each other by planning our wedding, I don't think we should have done it any other way.
Big weddings aren't bad and eloping isn't being rude to your family. It's all about what matters most to you (Hint, go back to your top three priorities).
4 – PHOTO AND VIDEO REALLY DOES MATTER
I don't want to make this into a "hire me" kind of post, but photography and videography matter. Wither you are planning a big wedding or an epic elopement, get a creative team to document your memories.
You will outgrow your dress, the flowers will die, your shoes may or may not get worn again (depending on how practical you are) food will be eaten, drinks will be consumed, and the majority of couples can't go back and enjoy their wedding venue. What you do have at the end of the day is your marriage, and your photos and video. This was the one area I knew I wanted to spend money in. We'll have our photos and our video for the rest of our lives. We can decorate our home with our photos and we can show our family members that couldn't make it and help them feel like a part of the day. I feel like I fell in love with Eric all over again. Seeing the way he touches me, the way he looks at me, and the way that I look back at him. Hearing his vows… It's hard to describe other than surreal. That feeling of falling in love again… sparked simply by a moving frame… is worth chasing.
While Eric hates photos and didn't want us to even have a photographer, I know that once we have kids and we can show them our wedding film, that will all change. We made the investment because we know that it matters most.
So… what's the point?
Do your wedding your way. Not the way the wedding industry tells you. Block out the noise, and do your research. You can (and should) enjoy this time of your life, and I love seeing couples having fun!